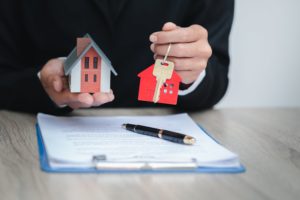 Your rental property can be a great source of passive income, but that doesn't necessarily mean you won't have to work for that revenue. 
There's a great deal of administrative work involved in managing any rental property. However, if you create a system for handling these details in advance, you can save time and money in the future.
Treat Your Rental Property Like a Small Business
You should treat each rental property you own as though it's an independent small business. This involves opening bank accounts for each property and keeping track of rental income, deposits, and expenses. If you maintain meticulous records for each property, you'll find that it's easier to file your taxes at the end of the year.
Develop a Screening Process
The easiest way to find good tenants is by creating a vacancy listing template that you can save on your computer. This will make it easier to market any vacancy quickly. 
Use background search services to evaluate each tenant and make sure to check their references. Verifying their employment, credit, rental history, and possible criminal background can help protect your property and your other tenants.
Create a Checklist for Preparing Available Units
When a tenant vacates one of your rental units, you should know exactly how to prepare the unit for a new tenant. If you create a checklist that you can print out, you'll avoid overlooking items that need inspecting or updating. This will ensure that each rental unit is in the same condition for every new tenant.
Make Sure You're Available
As the landlord, you'll need to be available to your tenants. Your tenants should be able to contact you for repairs and emergencies. You can provide a phone number for business hours and an email or instant messaging app for after-hour emergencies.
Additionally, you should provide convenient ways for your tenants to pay their rent each month to avoid delays and late payments. 
We Can Ease the Burden of Managing Your Property
Reliable Property Management can help you save time, money, and frustration with the management of your rental property. Call us today at 443-869-3799.