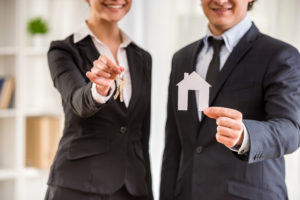 While property management companies and private owners have similar functions regarding rental property (like collecting rent, handling maintenance requests, etc.), there are distinct differences to understand before you decide to rent from one or the other.
An owner hires a property management company to handle basic tasks relating to the property:  Finding tenants, renting it out, providing maintenance, and more. In this case, a renter will probably never meet the actual owner. They'll communicate with the property management company, which acts as a middleman between tenants and the owner. 
In contrast, a private owner or landlord may decide to handle all of these tasks independently.
Policies
For the most part, property management companies will be stricter on policies. Tenants will likely sign a lease agreement with rules and regulations for the use of the property. For example, pet policies may be quite strict regarding the size, breed, and number of pets.
A landlord, however, is more likely to "bend the rules" because it's theirproperty. If a renter seems like a good tenant, they might allow an extra pet or a larger dog. However, they can also decide to ramp up the pet fee however they'd like.
Property management companies often have more specific rules about credit scores, employment, and factors that immediately disqualify potential tenants. Landlords, again, might be able to bend their own rules to accommodate specific situations.
Security Deposits
Property management companies often collect a security deposit of up to 150% of the monthly rent. This money is kept in a trust account. Upon move out, they have specific guidelines for what damages can incur additional charges.
Property owners don't have this specific code. They will usually charge the first and last month's rent, in addition to the security deposit (up to 200% of the monthly rent). 
With an individual owner, renters run the risk of their landlord spending that money (as it won't be in a trust account) and being charged with "damages" because they can't pay it back. On the other hand, however, an individual landlord might be more flexible on what repairs tenants are responsible for.
Maintenance
Property management companies usually win in this realm. They generally have their maintenance department. Especially with today's online rental portals, tenants can easily request maintenance calls.
Although this is heavily dependent on the property owner, maintenance from a single landlord usually means that the owner will come to the property to make a fix on their own. If they can't, they may have to call a vendor, resulting in "cheap" work that takes longer, as the repairs have to come out of their pocket.
Reliable Property Management
Are you looking for a reliable management company to manage your property or provide you with a secure rental space? Visit us online or give us a call at 443-869-3799!