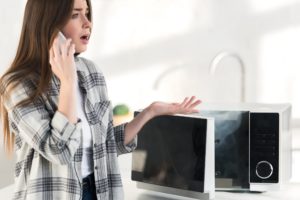 Whether you are a property owner or a tenant, the issue of appliance repair is an important matter to address. Understanding your responsibilities starts with looking into the law and your legal obligations. From there, the terms of the lease may determine responsibility.  
What Does the Law Say About Supplying Appliances?
Although most people don't know it, the law does not require the property owner to provide appliances. This includes the stove, refrigerator, and microwave oven. Over time, it has become a custom for the property owner to provide these appliances, but having appliances supplied is not among legal tenant rights.
When Does the Landlord Pay for Repairs?
If the landlord or property owner supplies certain appliances, they may want to take care of repair requests themselves. If this is the case, the lease will make these terms clear. 
The terms of the lease will instruct the tenant to notify the landlord of a need for appliance repairs. From there, the landlord will contact a repair service to address the issue.
When repairs do need to be conducted, the landlord is required by law to notify the tenant of their intent to enter the apartment. Typically, 24 hours notice is required.
When Is the Tenant Responsible?
It's important for the tenant to read their lease carefully before signing. Even though the property owner may supply the appliances, they might still want the tenant to take care of their own appliance repairs. If this is the case, the lease will say so.
Alternatively, the tenant may have to supply their own appliances, including a stove and refrigerator. In this situation, the tenant is responsible for repairing their own appliances. They are also responsible for taking their appliances with them when they move. 
If an appliance breaks down, the tenant is responsible for removing the unit and disposing of it.
Call Us Today for Professional and Courteous Help!
As a landlord, you can alleviate your burden by using the services of Reliable Property Management, Inc. Call us at (443) 869-3799 to learn more about how we can help.