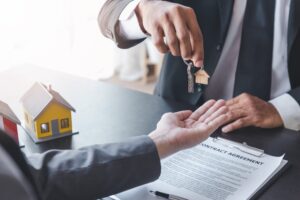 Renting out your property can be a solid way to keep your income flowing. Managing your property includes many aspects, including having rental agreements in place. To make the perfect rental agreement in Maryland, you must keep some things in mind.
Things to Consider When Drawing Up a Rental Agreement
There are numerous resources available to help you create a rental agreement in Maryland, from templates to attorneys to professional management companies. You'll need to ensure that several vital components and clauses are included in your agreement.
Things to Include in Your Rental Agreement
Once you're ready to create your rental agreement, stay aware and make sure you include the following: 
The property address and contact information for you and your tenant

The length of the lease term (six months, one year, etc.)

The exact rent amount and when it's due

The security deposit amount and how it will be used

The conditions under which the security deposit will or will not be returned

The tenant's right to quiet enjoyment

Your right to enter the property with appropriate notice
In addition, you must list the tenant's responsibilities, such as paying rent on time and keeping the property in good condition. Ensure you also list your responsibilities, including providing habitable housing and maintaining the property. 
Your rental agreement must also include the procedures for resolving disputes and any pet policies that will be in effect. State some information about parking policies, if applicable, and the procedure for reporting maintenance issues.
Creating an Ideal Rental Agreement in Maryland
There is much more to owning rental properties than just creating an agreement, which a professional property management company can take care of for you. If you want to save money, effort, and time by having someone else manage your properties, contact Reliable Property Management today at (443) 869-3799.