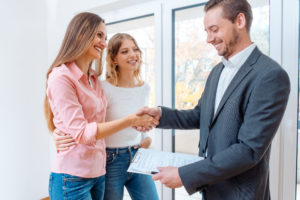 A happy tenant is a good tenant who makes payments on time, treats the property with respect, and communicates when there is a problem. 
So, how exactly do you make your tenant happy? At RPM, we think it helps to establish a healthy relationship from the get-go. And, since we work with people on both ends of the rental contract, you can trust our expertise in this area!
Below, we offer tips for building a good relationship between landlord and tenant. Use them as stepping stones to create a solid connection that will last for months and years to come. 
1. Prepare Your Property Appropriately
When you want to attract and keep high-quality tenants, details matter. While it can be tempting to use the cheapest materials for things like paint and flooring, low-quality finishes will wear out quickly, leaving the property looking shabby. 
Be intentional about the materials you choose. A moderately priced vinyl plank floor can hold up well in high-traffic areas, but also feel like a luxurious and thoughtful touch for your tenants.
2. Work Quickly to Resolve Maintenance Issues
Leaving maintenance problems unresolved can quickly sour your relationship with a tenant. Plus, the quicker you take care of a problem, the less money you may have to spend. What may start as an easy fix can quickly get out of hand if it is ignored for too long. 
3. Set Clear and Fair Expectations
If you have expectations, be clear about them from day one. We recommend that you have a written contract that covers these details:
How much and when rent is due

The standard for cleanliness and maintenance

What's allowed and what's not allowed on the property
If the tenant and the landlord are on the same page about these expectations, the relationship is more likely to remain positive!
Reliable Property Management has years of experience in helping landlords with their rental properties. Get in touch with us today for assistance reaching your goals!