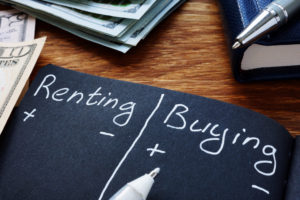 Around two-thirds of Americans prefer to be homeowners rather than renters. Although most people consider renting to be a stepping stone to purchasing a house, there are a number of advantages to renting that make it a far better option than buying!
Lower Monthly Expenses 
Renting is frequently less expensive than buying a property on a monthly basis. Rentals are often less costly in the end when you total up your mortgage, property taxes, and insurance, particularly in comparison to a low-down-payment mortgage with private mortgage insurance. 
Many places for rent also include heat and water in the rent price. This inclusion can save you money in comparison to paying all utilities yourself as a homeowner. 
More Flexibility
What if you get a phenomenal job offer 500 miles away and already own a house? Maybe you find out you're expecting a baby, and you live in a 400 square foot one-bedroom condo that you bought? When you rent a home, you have the option to move when your lease is up. 
Most leases are for 12 months, but some landlords do month-to-month, six-month, and 18-month leases. The freedom to migrate might be a blessing at a time when work possibilities are rare. In addition, if your personal circumstances change and you need a different home, renting makes it easy to relocate.
Give Us a Call
There are plenty of advantages to renting over buying. It's often much more affordable, less of a commitment, great for individuals who do not want to stay in one place too long, and more! Reliable Property Management, Inc. is here to help make working with tenants an enjoyable experience!
Whether you're looking to hire a property management company for tenant placement or you want expert maintenance services, give us a call at 443-869-3799 today to discuss your options. We look forward to hearing from you!