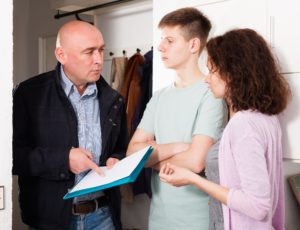 One of the biggest priorities for property-owning landlords is making sure that your property is being well taken care of by your current tenants. Additionally, it's important to regularly check for any issues that could be affecting your tenant's safety on the property. 
That's why property inspections are a crucial part of a landlord's job. Generally, when a tenant is currently renting the property, landlords won't perform property inspections unless the tenant has specifically asked for one due to an issue or the landlord has cause to believe that an issue might be occurring. 
If a tenant hasn't had any issues with the property and is on time with rent consistently, many landlords will continue to re-sign the lease year after year without performing an inspection in between lease renewals. However, even with overall good tenants, the landlord should have an accurate picture of the state of the unit on at least a yearly basis.
What Landlords Should Check for
There are a few basic upkeep tasks that landlords will generally perform when inspecting a property, such as changing the smoke detector batteries and replacing the AC unit filters. Additionally, they'll usually do a general sweep for signs of water damage, wear and tear, and basic cleanliness. 
If the inspection has been called for by the tenant for a specific reason, the landlord should prioritize that request. This could be anything from a pest problem to a water leak, which may need the services of a specialist like an exterminator or plumber to be resolved.
How Much Notice Is Required?
Landlords are required by law to give notice to the tenant before entering their property. However, the specifics of what constitutes notice can be outlined by the landlord in the lease. 
Want to make life as a landlord that much easier? We're just one call away. Contact us at Reliable Property Management, Inc. today by calling (443) 869-3799.